The "big coming out" was not planned like that, from one minute to the next, literally like "thrown into the water". But the current developments around the SARS-CoV-2 virus, whose effects cause the disease COVID-19, have already changed a lot. Everyone was forewarned about this pandemic, prepared the most - but the effects are exceeding all plans. Since the virus also attacks the respiratory tract and lungs, many have to be placed not only in quarantine, but the more serious cases also have to be hospitalized - and mostly in intensive care units. These have to be removed at short notice and expanded with medical equipment. Devices, however, which are usually not directly available or available. Here, additive manufacturing came to the rescue suddenly and quite unexpectedly for many. However, additive manufacturing has so far passed the free swimmer or even the speed swimmer and other tests well. By Sabine Slaughter.
Border closures, bans on the export of medical equipment and its spare parts, lack of many things - from breathing masks, PPE to face masks, ventilators, distributors, to name but a few - which are needed immediately at certain locations due to the huge rush of patients have suddenly become the new rule. Quick action was required in the last weeks and still today. Who has what where and how quickly it can be brought to the place of use. It soon became clear: We do not have enough. And not only locally or regionally, but worldwide! Production was ramped up - but since many of the goods in short supply are unfortunately produced in China, which was itself affected by a "total closure" at the time, this was not enough either.
Slowly but surely additive production came into play. First only a few, then very many. Even production groups were formed - the individual templates were sent all over the world - and locally additive printing was used. Of course, there were medical applications before that - many of them still in the approval phase - but these were mostly focused on the dental sector, audio and implants.
Approval still pending in most cases
However, medical equipment, parts and spare parts must be manufactured here. This normally means a large number of, among other things, approval tests, material tests and, above all, the testing of templates, the validity of functionality, etc. This normally takes time. But lives were and are at stake here. Medical personnel and additive manufacturers have worked and continue to work hand in hand and now present new solutions that can be used to save lives almost daily. At present, only a few of these are officially approved, but when life and death is at stake and an additive manufactured solution is available, the patient does not necessarily ask for it - he just wants to be saved. And that is what many projects are all about at the moment.
Also PSAs are, depending on the country, little available. PSAs are personal protective equipment, including all kinds of masks, mouth and face protection, aprons and protective suits, etc. Who hasn't heard the calls in the last few weeks the individual headlines about unavailable PPE and so on. Here, too, the additive manufacturing - user and manufacturer - helps. Even the EU has tendered projects etc. throughout Europe to help by additive manufacturing and is looking for capacities for medical applications. Many manufacturers, companies, but also solution providers have "opened their doors" or made their artwork available as open source additive manufacturing companies, but also 3D printing users. Below we give a small overview of some of the developed solutions which are used.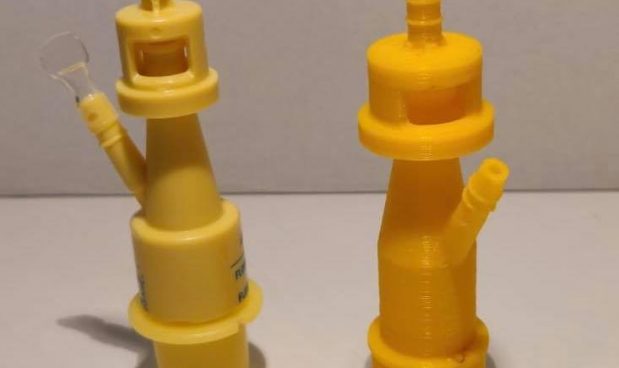 Venturi valves and masks
One of the first examples of successful additive manufacturing comes from Italy. The company Isinnova from Brescia manufactured Venturi valves, which are required for respirators, for the hospital in Chiari. The original manufacturer was unable to deliver quickly and did not want to release its templates for the venturi valves. The total isolation in Italy and especially in the Brescia area meant that everything had to be manufactured locally and quickly. For this reason, the start-up company with 14 employees measured, listed, redrewed and then printed these essential parts using three techniques (FDM, SLS, SLA). "When we heard about the shortage, we immediately contacted the hospital in Chiari. We printed some prototypes, the hospital tested them and told us they worked," said Fracassi. "So we printed 100 venturi valves and I personally handed them over." Since the production cost of venturi valves made with additive manufacturing materials is only a fraction (about one euro) of what the hospital normally pays for a venturi valve, the founder not only delivered one hundred venturi valves by hand, but also did not charge the hospital for its services, since he considers his donation the least he can do in such circumstances. Unfortunately, however, the company has now received a patent infringement lawsuit from the original manufacturer for its fast, free, charitable and much needed services.
The same company already had a Decathlon snorkel mask in its range. This was modified at short notice by Isinnova, and FabLab Brescia to make it an emergency breathing mask. Dr. Renato Favero, the former director of the Brescia hospital in Gardone Valtrompia, was the first to bring up the idea of emergency breathing masks and he considered to re-adapt a famous model of snorkeling machines already on the market. The doctor turned to Isinnova, a consulting firm in the industrial engineering sector which in turn named Decathlon, manufacturer of the Easybreath snorkeling masks, which immediately participated in the project by providing the CAD drawing. After careful evaluation of the necessary modifications, the add-on for the connection between mask and respirator was designed. Christened "Charlotte" by Isinnova, the valve has already been patented for free use so that it can be used by all hospitals. Using 3D printing, the first prototypes were produced in record time and immediately tested on patients in hospitals in Brescia, which was particularly hard hit by the crisis. "These emergency masks are not certified for healthcare institutions, but can be used when official healthcare services are lacking, such as the C-PAP masks used in sub-intensive care," Isinnova specifies on its own website. "Although this solution is currently a non-certified biomedical device, we are already receiving confirmation from hospitals that it is proving extremely useful when nothing else is available". These are printed by the Italian additive manufacturing company Weerg. "Thanks to the technologies available to us, which guarantee precision, repeatability and speed for print runs of several thousand pieces, we are able to produce parts of medical instruments needed at this moment of emergency in record time," explains Matteo Rigamonti, founder of Weerg. Weerg's 3D printers can produce a single piece or a series of up to 5,000 pieces, using thermoplastic materials such as Nylon PA11 and Nylon PA12, which are tough and ideal for producing functional prototypes and final parts. A productivity that Weerg wants to put at the service of hospitals and companies operating at the front line.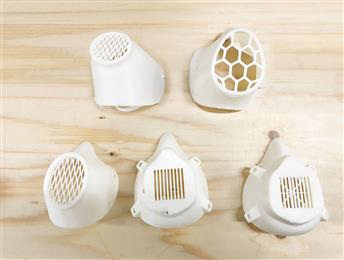 Montana Mask
Make the Masks provides the templates for the Montana mask. This mask was developed and tested by Dusty Richardson, MD, Spencer E. Zaugg, DMD and Colton Zaugg. These surgical masks are not equivalent to N95 masks. The Montana mask is printed with PLA and is currently in use at the Billings Clinic in Billings, Montana. It can be adjusted to fit faces, can be disinfected between applications, and requires a filter material that is standard hospital equipment. The mask has undergone various tests, but is not yet FDA or NIOSH certified. However, the developers have subjected these to various tests and are convinced that they exceed the test criteria.
Respiratory protection masks
Intermountain3D together with Dr. Ilyas Colombowala, MD FACC FHRS from Saint Alphonsus Heart Institute presented a further development of the Montana mask. This mask is also neither FDA nor NIOSH certified. The Halyard H600 has an additional foam seal and filter. The idea for the two-layer spun polypropylene filter Halyard H600 comes from Dr. Bruce Spiess of UFHealth, who co-developed the Montana masks. It must be produced with SLS printers. Intermountain3D uses printers from 3D Systems. The mask, manufactured with additive, has passed the N95 equivalent fit test with Bitrex (surgical packaging as a filter) and can be worn all day provided it is not contaminated. It can be resterilized/reused. According to Dr. Ilyas Colombowala MD FACC FHRS the material is Nylon-12. The reusable respirator consists of a 3D printed mask, sealing strips, elastic bands and filter media made of Halyard H600 2-ply spun polypropylene (surgical packaging). Other N95 or equivalent media can also be used. According to Dr. Ilyas Colombowala, surgical packaging can be used, "which is a good replacement for a filter media that is not available. This is a heavily modified and redesigned Montana mask. It requires an SLS printer to achieve the specifications required for proper fit. The Montana mask is used as a surgical mask replacement. This mask can be used when N95 masks are not available.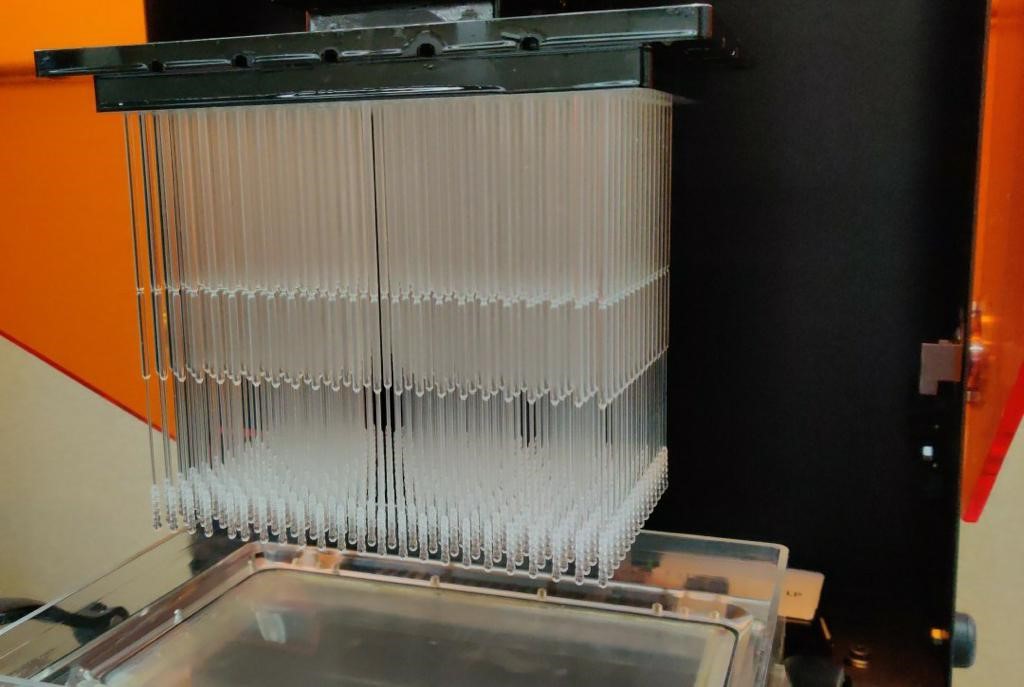 PPE and swabs
Working with healthcare leaders, EnvisionTEC founder and CEO Al Siblani and his team of engineering and application specialists, with the help of a number of dedicated clients, have identified several areas where their specific strengths in biocompatible materials and fast, accurate 3D printing devices can help replenish inventory and provide new, alternative solutions.
EnvisionTEC's efforts to date have focused on the lack of ventilators for increased demand, personal protective equipment (PPE) and nasopharyngeal swabs (NP) for sampling for testing.
Personal intensive care ventilators are critical in treating patients with severe respiratory failure, a symptom of severe cases of COVID-19. It has been determined that the demand for these ventilators will far exceed current inventory levels. Manufacturing giants like Ford and GM have been tapped to support the production of these devices, but even with the increased manufacturing capacity, the process of ordering these devices and getting them into the hands of the healthcare professionals who need them could cause delays. Al Siblani has been working with local hospitals in the Detroit Metro area to deliver a functional ventilator splitter that could be printed in 3D in a Class 1 material such as EnvisionTEC's E-Guide. EnvisionTEC is working with the FDA to approve the use of 3D printed splitters as an emergency solution to allow multiple patients to receive oxygen from the same ventilator by adjusting the pressure controls on the ventilators to allow for two-patient use. By using 3D printing for these accessories, production has been increased in locations near the places with the greatest demand, enabling a rapid response to the growing problem and more than twice the capacity of the current ventilator inventory.
In order to effectively treat the growing number of COVID-19 patients, health professionals and many other key workers are highly dependent on PSAs. Many mask designs are intended for single use, and as public demand for these items increases, they will become increasingly difficult to obtain. Again, 3D printing is an ideal solution for printing and sterilizing parts of face masks. EnvisionTEC has a number of large 3D printers that can print these parts quickly and efficiently in large quantities, and many of its customers have been able to respond to local demand.
EnvisionTEC works closely with the Harvard Microbiology Lab as part of a larger group. To this end, EnvisionTEC engineers have developed a collection tip for a flexible nasal swab. Brian Nilson, of Nilson Laboratories, printed the final design in 3D for testing. He was able to print 400 of the swabs, made from Class 1 approved material E-Guide, on his Envision One cDLM within two hours. The testing process includes a ten-part mechanical test, a two-part absorption test, a biological/chemical test procedure to ensure that the swab absorbs viral RNA particles and does not interfere with PCA/reagents, and a test procedure for sample collection. To pass the test, a sample using a material that is recognised as chemically safe had to bend 180 degrees without breaking, and the design had to be able to safely collect enough viral particles from the nasal passage to test effectively.
E-Guide has passed some of these tests and is awaiting final review and approval by the IRB. Under FDA regulations, an IRB group, formally appointed to review and monitor human biomedical research, is authorized to determine that E-Guide is suitable for mass production of NP swabs for COVID 19 testing. EnvisionTEC has a long-standing commitment to providing solutions for its customers and is now preparing to respond to the call to action and help equip healthcare professionals with the tools needed to fight this global pandemic. With an extensive network of thousands of customers ready to help, EnvisionTEC is proud to offer the capability to produce hundreds of thousands of swabs per day.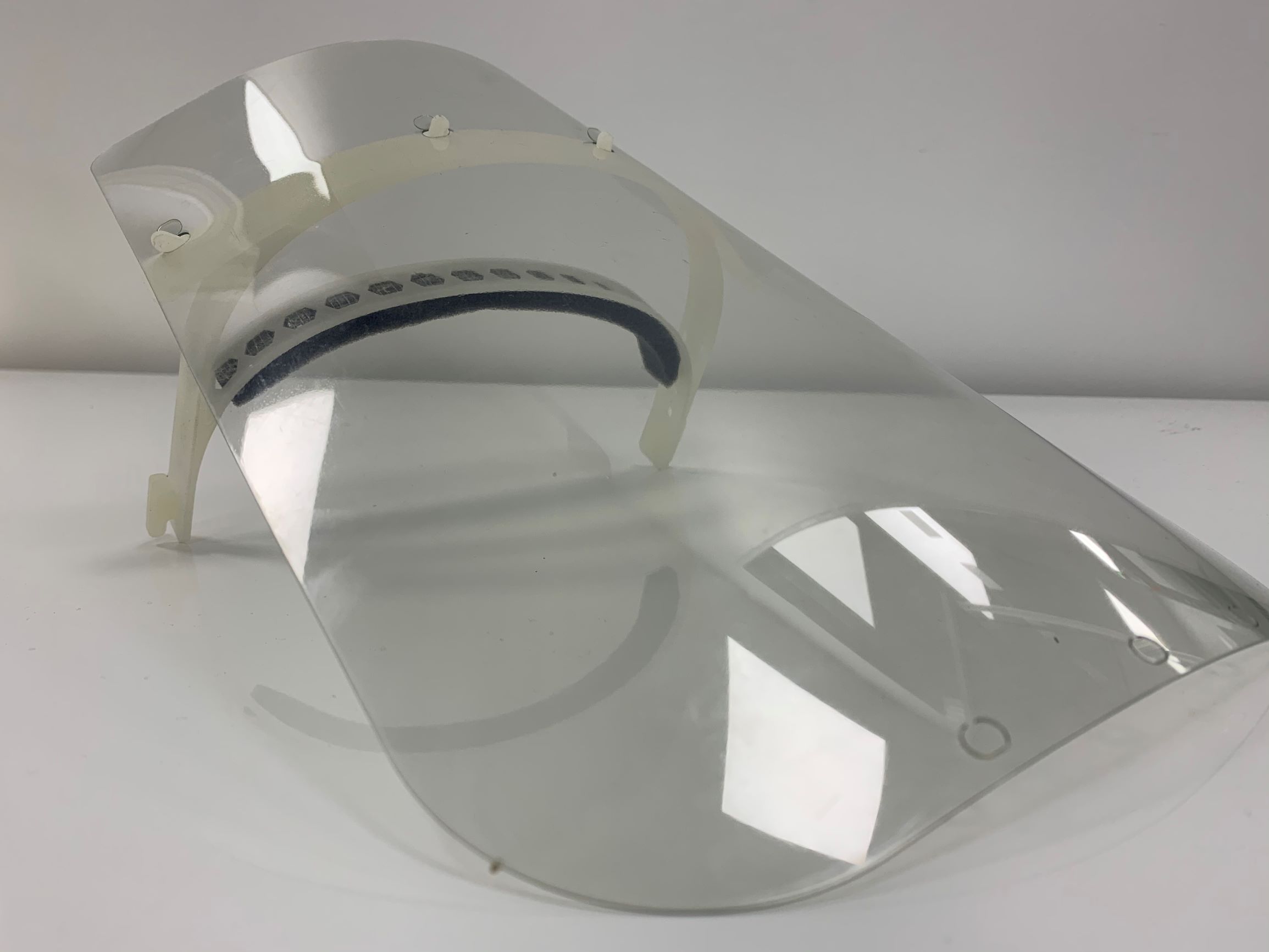 Face Protection
Ricoh 3D manufactures 40,000 clear face shields per week to equip the staff of the UK's NHS healthcare system. The face shields have been specifically designed by Ricoh to improve comfort and help reduce long-term costs through reusability. Just 24 hours after receiving the design file, the Ricoh team had already printed the headrest and was able to source and assemble the remaining components with the help of its suppliers. After optimising the design to both increase comfort and reduce the risk of contamination, the face shield was released for production. Mark Dickin, Additive Manufacturing & Moulding Specialist at Ricoh 3D, says: "Our facility is designed to take a product from concept to prototype to mass production, and we have done just that in a very short time. This is also a testament to the strength of our supplier network and, above all, our cross-functional team that has been able to get the job done so quickly. Local suppliers for the foam, rubber bands and visor components have contacted us through our production printing, design solutions and quality assurance networks. We have seen reports of nurses' faces being injured and bruised by the existing protective equipment. The hospital staff is struggling enough, the employees should not have to take care of their faces after a 12-hour shift. We knew immediately that our polypropylene, which is flexible, lightweight, waterproof and fatigue-resistant, was ideal for the job. Its properties are comparable to those of the materials used in injection moulding, so we had no doubt that this was the right material for series production by injection moulding".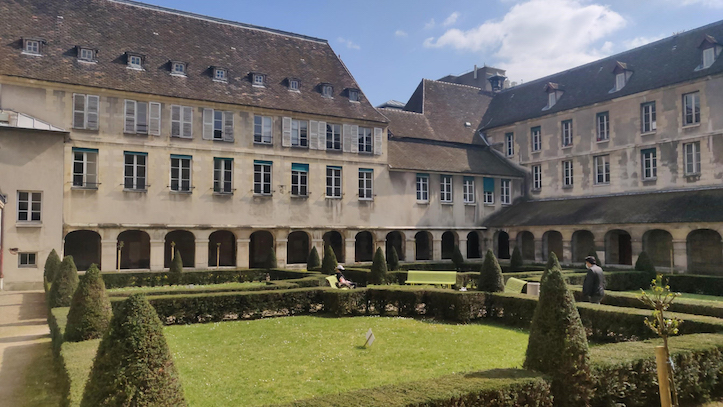 From masks to valves
University Hospital Trust (AP-HP*) in Paris is deploying a fleet of Stratasys F123 Series 3D printers to ensure rapid on-site production of critical equipment that is currently unavailable. The 60 FDM printers were delivered to the hospital within 24 hours of the order placed on March 31. With the installation of the printers, the AP-HP - the largest hospital system in Europe - will have its own internal production arm to ensure fast, on-demand manufacture of vital equipment, including face shields and masks, electric syringe pumps, intubation equipment and respiratory valves.
Dr. Roman Khonsari, a surgeon within AP-HP who led the project, said 3D printing was the ideal solution to produce vital equipment locally, bridging the shortage of traditionally manufactured devices. The system contracted medically-oriented 3D printing service provider Bone3D to provide the engineers to manage the implementation, operation and support of the fleet.
Stratasys EMEA President Andreas Langfeld said the pandemic had shown that 3D printing could bring greater agility to supply chains for conventional medical products. "The far-reaching and heavy nature of COVID-19 continues to impact the supply chains of some of the world's most critical medical devices," he said. "By using 3D printing technology on this scale, AP-HP has its own responsive internal supply chain that places production right where it is needed, ensuring that critical devices are quickly in the hands of the frontline medical staff who fight to save lives every day.
In parallel with the implementation of 3D printers, AP-HP has developed a dedicated 3D printing platform on 3dcovid.org to accelerate requests for 3D printing projects from hospital workers in Paris and the surrounding area.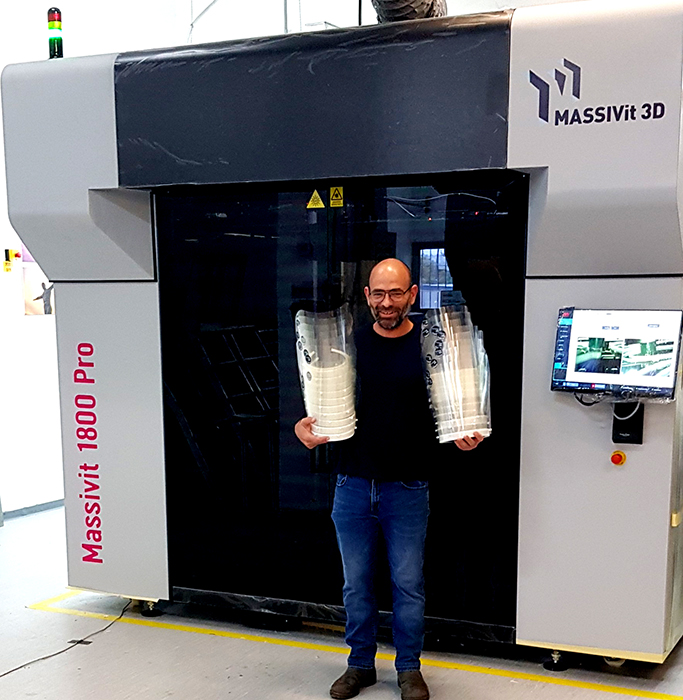 Face Shields with Partner Network
Massivit has called upon its network of over 100 customers and distributors worldwide to produce erronomic PPE face shields. In addition to using all production resources to manufacture and donate thousands of face shields to the medical teams of local hospitals with delivery times of less than a day, the company has also made the optimised 3D print files of the newly developed face shields available to all. Massivit's global 3D network of customers and distributors are also providing their own Massivit 3D printers for these efforts, as well as supplying face shields to healthcare workers in their countries. Customers who participate in this initiative have been guaranteed a donation of printing gel by Massivit 3D. "We became aware of the terrible shortage of personal protective equipment worldwide and the urgent need to help medical teams protect themselves," said Erez Zimerman, CEO of Massivit 3D. "Our team is proud to be able to offer significant help in these difficult times. All our efforts are now focused on this cause. We are mobilizing all our resources on the new PSA face shields so that our customer network can help as a unified global force in the fight against the COVID 19 pandemic. We encourage and support the development of any initiative that can help eradicate this scourge using the unique Massivit 3D additive manufacturing technology".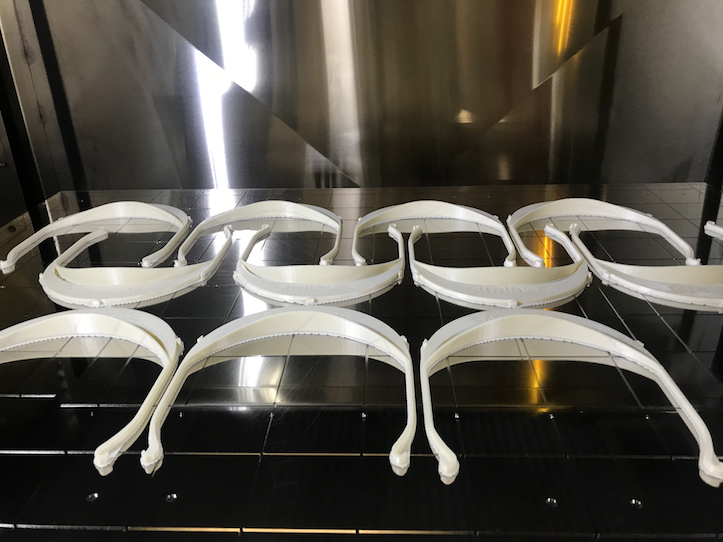 Visors
An alliance initiated by Stratasys to produce face shield visors using 3D printing now includes over 150 companies and universities. These include Boeing, Toyota Motor Company, Medtronic, Dunwoody College of Technology, the University of Central Florida and the University of Minnesota. The visors include both a 3D printed plastic frame and a clear plastic visor that covers the entire face. Any 3D printing company that wants to help and can print at least 100 visors can fill out an online form to be invited to participate in the initiative. In Europe, the company serves as a one-stop shop to connect service offices with those who need help, and has taken up offers and requests in most major countries. The company has also published the complete printing and assembly instructions for the face shield visor so that everyone can produce face shield visors on their own. In the US, Stratasys is using its GrabCAD-Shop work order management software to assign health care orders to each coalition member.
To date, the Coalition is serving the needs of more than 30 different healthcare systems, including hospitals, clinics, university clinics and nursing homes. The first deliveries were made on 25 March. Stratasys has received requests for 350,000 face shield visors, so further acceleration of production for all coalition members is crucial.
"Over the past weeks, our industry has worked together in an unprecedented way," said Scott Drikakis, Stratasys Healthcare Segment Leader. "There is great distress, but our coalition partners are showing great commitment. This gives us time to increase production of visors and other essential supplies. It's this fast, adaptable response that makes 3D printing what it is, and I'm very proud of our employees and partners."
Stratasys itself produces thousands of visors in Minnesota, California and Texas and provides the resources of Stratasys, Stratasys Direct Manufacturing and MakerBot. In addition, the company also responds to requests from customers and partners for 3D printers, materials, demand-driven components and customer service. Despite the "Stay at home" arrangement, this demand can still be met at the moment. This does not include on-site service, which is only available to a limited extent.
Another initiative led by anesthesiologists from Massachusetts General Hospital has been launched under the name CoVent-19 Challenge. This asks engineers and designers to help develop a new, rapidly deployable ventilator and other innovative solutions to the shortage of ventilators. Stratasys supports the competition.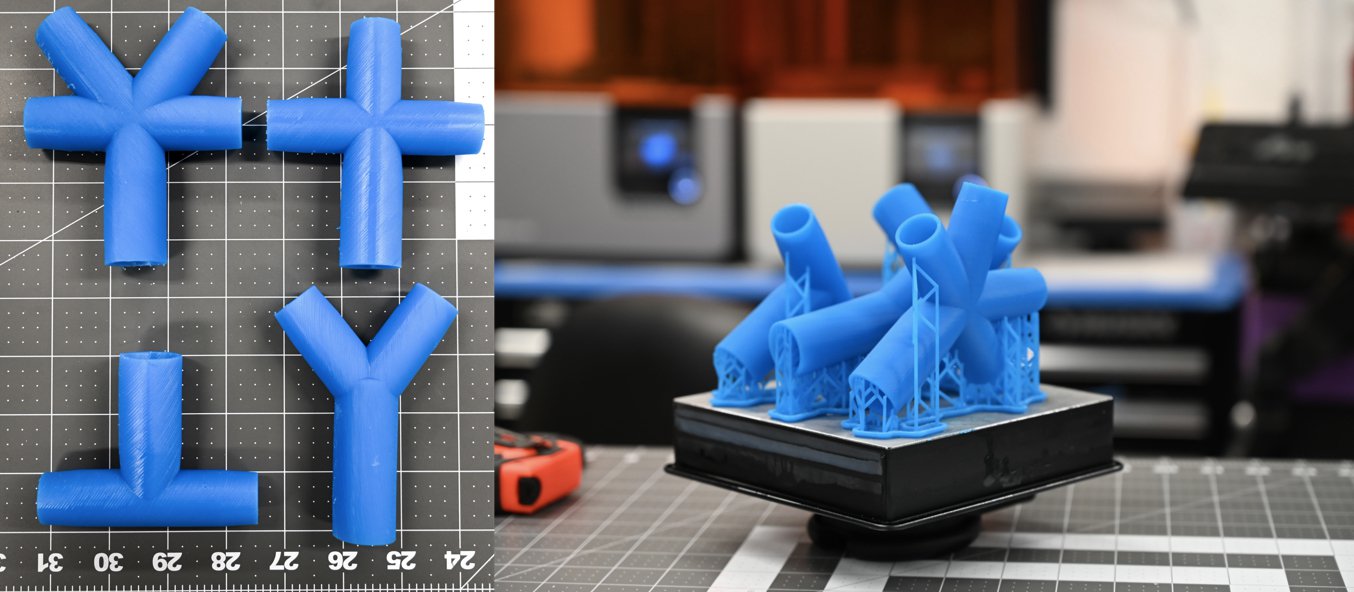 Manufacturing network for PPE and more
Formlabs and its worldwide network produce a variety of PPE and other much-needed tools and equipment, including test kit swabs, valves, ventilation splitters.
For example, Dr. Alex Stone and Dr. Jacqueline Boehme of a leading hospital in Boston are currently testing and validating designs for the fitting of a full-face snorkeling mask in terms of sealing, breathability, nebulization and the ability to communicate with other physicians while wearing the mask. As this filter is reusable and not available/unknown to the public, the risk of being accepted by providers treating sick patients is reduced.
Nasopharyngeal swabs NP swabs are flexible rods with a beaded end that are inserted into the nose to the back of the nasal cavity and turned around to collect material that sticks to or absorbs the bristles. The swab is then placed in a vial of culture medium. The swabs have an intentional weak point 7-8 centimetres from the tip of the bristles, which allows the swab to be broken to the correct length so that the vial can be capped before being transported to a laboratory for testing. The swab design is currently being printed and optimized by USF Health and Northwell Health physicians, with designs from other leading hospitals being evaluated. The entire swab is printed in one piece. Formlabs has printed hundreds of test swab samples using the same biocompatible, autoclavable material as Surgical Guide Resin. These samples have undergone a variety of tests at USF Health, which has received emergency IRB approval, as well as regulatory, infectious disease and virology approvals.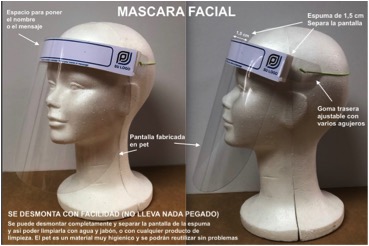 Face masks, adapters and more
Together, HP's global network of collaborative partners mobilize their 3D printing teams, technology, experience and production capabilities to accelerate the manufacturing of critical components. More than 1,000 3D-printed parts have already been shipped to hospitals in several countries. HP's 3D research and development centres in Barcelona (Spain), Corvallis (Oregon, USA), San Diego (California, USA) and Vancouver (Washington, USA) work with partners around the world to increase production and address the most pressing needs. Among the first applications to be validated and finalized for industrial production are face masks, face shields, mask adapters, nose swabs, non-contact door openers and components for respirators.
"HP and our digital manufacturing partners are continually working to combat the effects of this virus. We are working across borders and across industries to identify the most needed parts, validate the designs and produce them in 3D printing," said Enrique Lores, president and CEO, HP Inc. "Our appreciation goes out to our employees, partners, customers and members of our community for their tireless efforts to support the medical professionals who are fighting on the front lines.
HP's global network of manufacturing partners aims to make 3D printed parts available in every region of the world. Among the first applications to be validated and produced are
- A hands-free door opener: Door handles are among the most germ-contaminated objects in homes, hospitals, factories and retirement homes. The adapter allows for easy and more hygienic opening with the elbow.
- Wearing aid for masks: Many hospital employees have to wear masks over long periods of time. The adapter improves comfort and relieves the earaches that are often associated with this.
- Face shield: Face shields are among the most needed personal protection. Brackets that hold the shield and adjust comfortably to the wearer are a critical component.
Other applications are in the testing and validation phase and are expected to be produced shortly, including
- Mechanical Emergency Ventilation: 3D printed components for a mechanical mask intended for short-term emergency ventilation of COVID-19 patients. The simplified design allows for a more robust and less complex device, ensuring rapid production and assembly.
- FFP3 face masks: Effective protective equipment is required for medical providers to treat the mass of expected COVID-19 patients. HP is currently validating several hospital-quality face masks - we expect to have them available soon.
Open Innovation
Dassault Systèmes' 3DEXPERIENCE Lab, together with start-ups and manufacturers, has launched several initiatives aimed at providing rapid answers to urgent questions about the COVID-19 pandemic. The initiatives leverage the collaborative and swarm intelligence approach of the 3DEXPERIENCE platform to quickly identify, qualify, design and manufacture solutions. These solutions are designed to solve current challenges and provide targeted support to hospitals.
There are many more examples of additive manufactured aids, products and solutions for the ongoing pandemic. We will present these in further articles.