Ralph Bendix and the Halodries would have sung a modified version of their 1960s hit "Schaffe, schaffe Häusle baue" ("Work, Work, build a house") today. And they would certainly have sung about the architectural freedoms that are possible today through printing. By Sabine Slaughter
There is no end to the printing of houses and other architectural structures and the tools used to create them. It is not yet standard to print houses, staircases and other things. But at present we can justifiably say that the future has begun. Albeit in small steps.
Many suppliers of additive manufacturing machines now not only offer the machines themselves on the market, but also 3D printing services. Thus, potential customers can have their orders such as components or formwork printed by the companies first and thus try out which production method - traditional or using AM - offers them advantages. If the customer's order situation is then so advanced that it is worth buying their own additive manufacturing machines, the changeover is not so great and the staff are already used to working with digitally printed elements.
While formwork is traditionally made from wood, the current price development for wood ensures that complicated formwork in particular can be manufactured more cheaply and quickly using additive manufacturing.
The following is an inventory of current developments which, however, by no means claims to be exhaustive.
First commercially used residential building
At the end of 2020, Peri, the German partner of Cobod, the manufacturer of the BOD2 3D building printer, already created the world's first commercially used residential building. This comprises three floors with a total of five flats and 380 square metres. It is located in Wallenheim in Germany.
Henrik Lund-Nielsen, founder and CEO of Cobod, commented on the project, "We are incredibly excited to start seeing the fruits of the many 3D construction printers sold. The actual construction projects have been delayed by the Corona virus, but now they are starting to reveal themselves. This new German project is really a big milestone as the commercial nature of the building proves the competitiveness of 3D construction printing technology for three-storey buildings and residential homes. This in turn opens up completely new markets for our printers."
"As Peri is one of the world's and Germany's leading suppliers of formwork work equipment for the manual pouring of concrete, Peri's commitment to 3D construction printing is palpable and a sign that the conventional construction industry has recognised that the future belongs to the automation and digitalisation of construction, which includes the use of robotic 3D construction printers," explained Thomas Imbacher, Head of Innovation and Marketing at Peri GmbH: "We are confident that 3D construction printing will become increasingly important in certain market segments in the coming years and has considerable potential. By printing the first apartment building on site, we are demonstrating that this new technology can also be used for printing large-format residential units. With 3D building printing, we are opening up additional areas of application on a completely new level."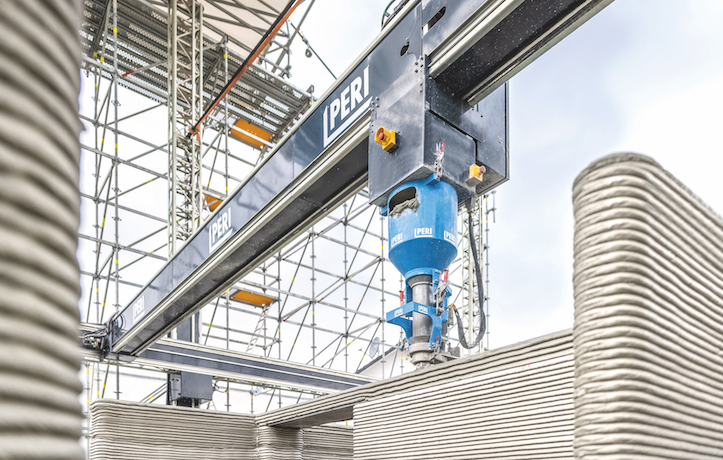 Peri created the building in Wallenheim using Cobod's BOD2 printer. The BOD2 is modular and can be extended with modules of 2.5 metres in any direction, up to a maximum of 15 metres in width and 10 metres in height. In length, the printer can be any length. For the building in Beckum, Peri uses a BSB 2 measuring 12.5 x 15 x 7.5 metres. The BSB 2 printer has a maximum speed of 100 centimetres per second, which is equivalent to printing/pouring 10 tonnes of concrete per hour.
Precast plants very interested
Röser GmbH from Braunschweig has installed a Grantry 3D printer from Cobod. This makes them part of a growing community of precast manufacturers using 3D design printers. The advantage is in saved mould costs, increased design flexibility and speed of execution, according to the manufacturer. Unlike robotic arm printers, gantry printers provide flexibility in determining the size of elements that can be produced and the ability to experience printing with real concrete.
Henrik Lund-Nielsen, founder and CEO of COBOD explains, "We are very pleased that we are starting to see demand from precast plants for our technology. With a 3DCP printer, precast plants can achieve the very advantages that their current mould-based production does not allow them: no need for moulds, the ability to offer customised and non-linear elements and a much faster execution speed. In addition, the ability to print very large finished parts with our printers and to print with real concrete with a grain size of up to 10 mm, as opposed to the small-particle mortars the robotic arm printers use, gives our gantry printers significant competitive advantages over the robotic arm printers."
Maximilian Röser, managing partner of Röser GmbH, said, "We have observed the development and potential of 3D construction printers in various industries and are convinced that they will also play a major role in the precast concrete industry in the long term."
Röser plans to print precast concrete parts for open spaces and special parts for road construction and civil engineering, as well as creative parts for buildings and stylish concrete products.
Sustainable house printing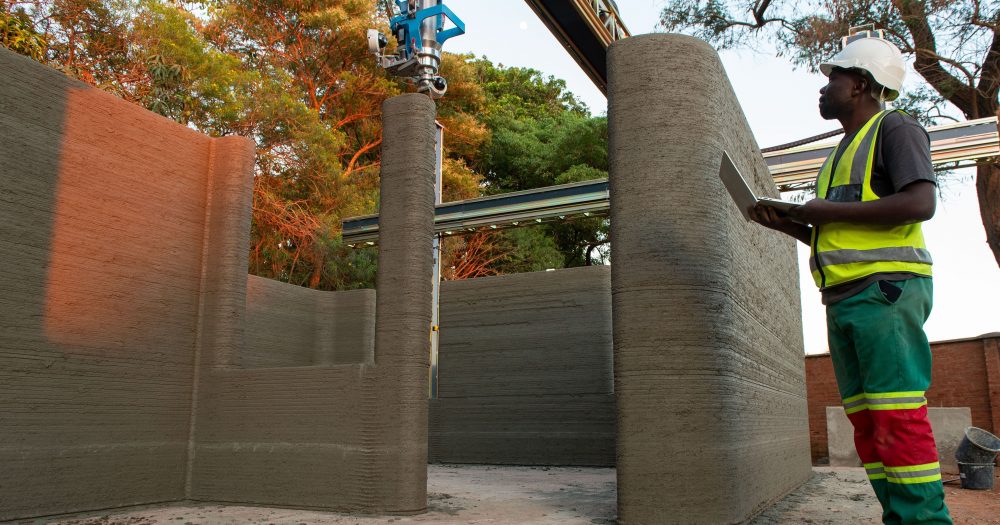 Low-carbon homes and schools in Malawi are also being printed using Cobod's BOD2. 14 Trees, a joint venture between LafargeHolcim and CDC Group aims to use it to print affordable homes, schools and social infrastructure that meet the UN Sustainable Development Goal. The big ambitions and roll-out plans of LafargeHolcim and 14Trees to other countries in Africa are naturally welcomed by Cobod, which is providing the 3D construction printers for this venture.
A demo building in Lilongwe, Malawi, was completed in just 14 hours and the walls of the first school in just 18 hours.
Miljan Gutovic, Region Head Middle East Africa and member of the LafargeHolcim Executive Committee, said, "I am very excited about the work of our joint venture 14Trees, which is using innovative 3D printing technology to accelerate affordable and sustainable construction, from houses to schools. This is a great example of our commitment to building for people and the planet. Starting in Malawi, we will be deploying this technology across the region, with projects already planned in Kenya and Zimbabwe."
Daylighting design
Architecture is all about creativity and design freedom. So it's no surprise that additive manufacturing (AM) has entered the construction industry, opening up new worlds of possibilities for architects, designers and engineers.
AM has transformed numerous applications in architecture from the construction of concept models to interior design and the building of entire structures. Combining computer-aided design with AM unleashes the full potential of digital fabrication and maximises effectiveness in the design and construction process. Structures that were previously considered too complex to build are now shapable and customisable realities.
Most importantly, AM enables architects to offer clients bespoke designs and one-off pieces. AM gives architects and designers a powerful tool with which they can visualise and modify a 3D concept model quickly and cost-effectively.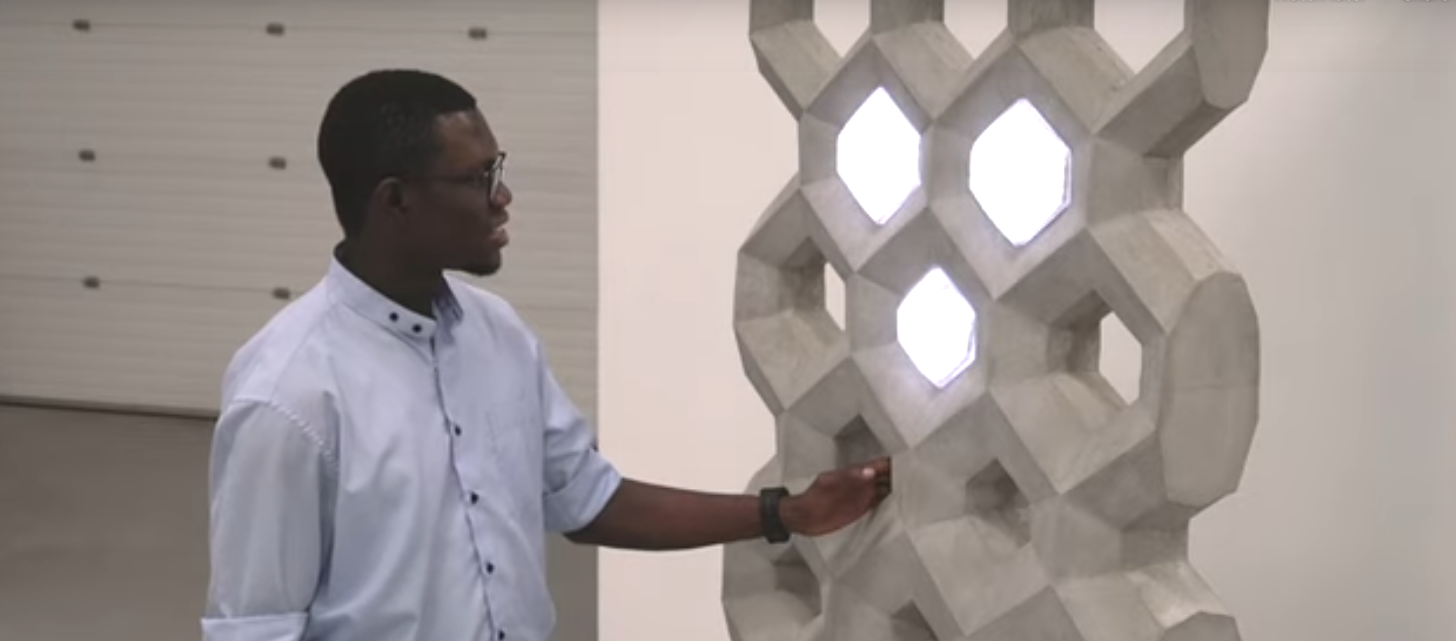 While the use of AM in the fabrication of load-bearing components made of titanium, ceramics or fibre-reinforced plastics is quite common, the possibilities for clay, concrete and glass are less developed and still rarely applied. For architects, finding ways to integrate natural daylight into buildings is often a challenge - most rely on horizontal blinds. The integration of these elements usually leads to abrupt changes in visual perspectives and gives designs a more technical, functional aesthetic. In addition, current approaches to the use of daylight often limit architectural design possibilities.
Large-format 3D printers with a load volume of one cubic metre are now able to print AM glass inserts to serve this application area.
New material for glass inserts
Together with OKALUX, Forward AM developed a solution based on 3D-printed glass inserts: "OKAFree". It offers sophisticated, multifunctional façade solutions consisting of insulating glass panels. These shield interiors from the sun and provide privacy while guiding and diffusing natural light - all combined in a single design. The environmental and mechanical stresses on the 3D-printed inserts between the hermetically sealed glass panes are virtually zero, making such applications risk-free - provided the right material is used. To achieve the best possible result, Forward AM has developed a material specifically for the glass inserts.
The design of the insert is created completely digitally and parametrically, allowing the architect to tailor the glass insert for each individual building and even for each individual pane of glass. It opens up previously impossible design possibilities - for example, any natural organic design of any size can now be 3D scanned, digitised, edited and printed. This integrated solution allows architects to create technical features tailored to each individual building, overcoming previous limitations. Optimal use of daylight is now possible, which is crucial for low energy consumption as well as high user comfort and individual well-being. By applying metallic PVD coatings from Forward AM, the reflection of each pane can also be individually adjusted.
"For us, material, application and process always go hand in hand. That's why we not only developed the material, but also chose the right printing technology and calibrated the printing parameters for this new and unique application. To ensure the quality and repeatability of the product, we take care of the production of the inserts together with our partner Sculpteo," explains Jörg Petri, Business Development Manager at Forward AM.
In short, this solution combines design, architecture and functionality in a new way with which glass façade applications and interior partitions in offices and private homes, shopping centres and museums, airports and houses of worship can be equipped. It proves that AM for architecture and design in the building industry enables complete customisation combined with advanced functionalities that optimise the use of natural light and energy efficiency while providing privacy, light control and innovative solar shading.
In addition, unique, design-specific lighting of building interiors is possible in a simple, visually appealing way.
"OKAfree enables more than ever the design of a façade and thus the entire building. Moreover, due to the depth effect of OKAfree, an additional function such as visual protection or daylight can be integrated according to individual wishes. From now on, it is possible to freely design façades almost without restrictions. This makes façades limitlessly diverse and every façade appears unique. This is why OKAfree is a great opportunity for designers and architects," says Dr.-Ing. Johannes Franz, R&D Department, OKALUX Glastechnik GmbH.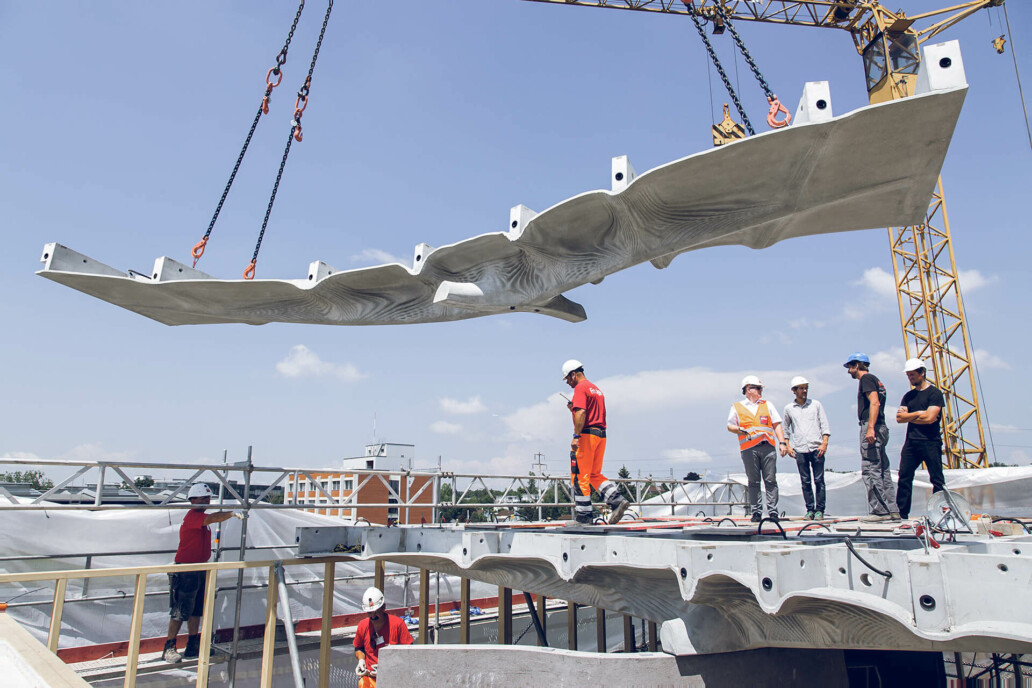 Complex formwork
voxeljet AG used 3D printing to create the highly complex formwork for the DFAB House (Digitally Fabricated House) research project in NEST (Next Evolution in Sustainable Building Technologies) at EMPA (Swiss Federal Laboratories for Materials Testing and Research). This involves a 78 square metre lightweight concrete slab as a statically optimised and functionally integrated floor slab with an unusually complex shape.
The company created 136 formwork elements using the Furan Direct Binding method. This is a layered construction method in which sand with an average grain size of 140 micrometres is selectively bonded with an organic binder (furan resin) by polymerisation.
"We are facing increasing construction activity worldwide while our resources are limited. By 3D printing formwork for concrete casting, we can combine the advantages of additive manufacturing to produce highly complex geometries with the excellent structural properties of concrete. This allows us to optimise the shape of concrete elements and thus use the material more efficiently," says Prof. Benjamin Dillenburger, Professor of Digital Building Technologies ETH Zurich.
The intelligent ceiling is one of the core elements of the DFAB House. The formwork system of this large-scale project was developed by members of the DBT professorship. The aim of the project was to demonstrate how 3D printing, based on optimised CAD data, can save material. Ceilings require much more concrete than columns - up to 80 % of the total weight of a building can be caused by ceilings. The savings potential is correspondingly large.
The goal was achieved: in the DFAB House, the ceiling is only as strong at each point as is statically necessary. Thus, more than 60 % of concrete could be saved compared to conventional constructions. 3D printing using the powder binder jetting process was the optimal solution for these highly complex and three-dimensionally curved concrete elements in the DFAB House. "Smart Slab" is intended to help the construction industry to build more material-efficiently and compactly in the future, as it already integrates additional functions such as lamp sockets, drill holes or openings for sprinkler systems. The cavities and open spaces of the ceiling structure also offer space for further lines and pipes.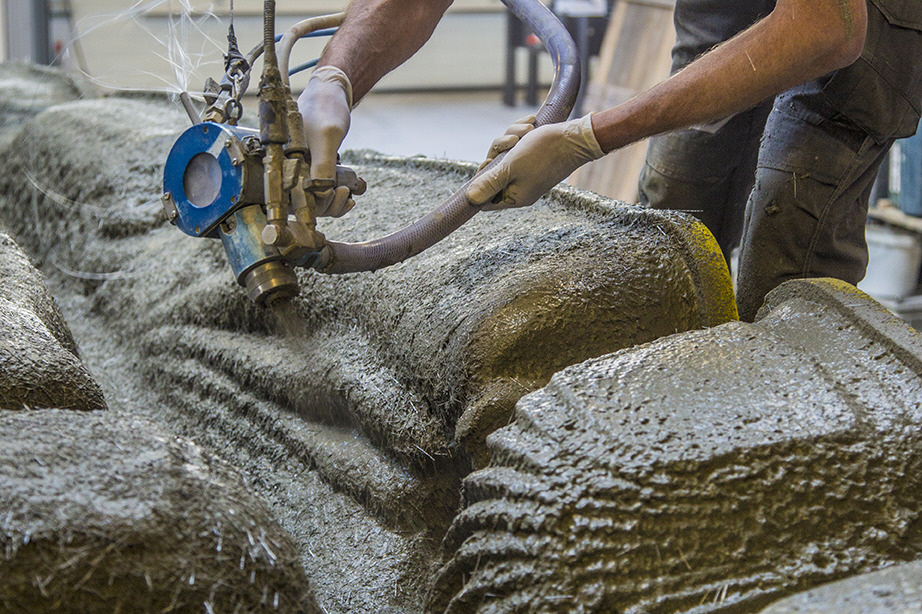 The 3D-printed partial elements were prefabricated at voxeljet and then infiltrated with polyester resin on the formwork surface by ETH Zurich, coated with a release agent and assembled into formwork for the seven-metre-long ceiling elements. Before the concrete was actually poured, a fibre-reinforced shotcrete was applied in thin layers. Last but not least, a laser-cut wooden formwork was placed for the struts and the concrete was poured. After stripping the formwork, the prefabricated parts could be transported directly to the construction site and assembled there.
The VX4000 from voxeljet - the world's largest industrial 3D printer for sand moulds - can print formwork elements measuring 4.00 x 2.00 x 1.00 metres, each of which can withstand a concrete pressure of 100 kilonewtons per square metre when suitably finished. The 136 elements printed by voxeljet have a total volume of more than 6,000 litres. The largest element was approximately 70 litres.
3D printed formwork
Several collaborative projects have already proven the effectiveness and efficiency of using 3D printed formwork.
One of the first projects took place in cooperation between voxeljet and Züblin AG. For the "Stuttgart 21" project - in which Züblin AG is involved in several construction phases - columns with goblet shoulders are to be erected in the underground station. The special feature of this complex form is the double-curved surfaces in the upper section. A hybrid solution consisting of conventional formwork and moulds from 3D printing seemed to make sense here - also in terms of cost.
As a test, four formwork elements were printed in Friedberg to the voxeljet headquarters and infiltrated with epoxy resin. The 3D-printed elements formed the contouring formwork, which was supported by a conventional girder framework. The elements were further processed and optimised to ensure efficient 3D printing. The total weight of all four elements was around 840 kilograms. 3D printing took about one day. Afterwards, the material had to be cured with epoxy resin, which also took about one working day. Finally, the formwork elements created using the 3D printing process Binder Jetting were erected and filled with two cubic metres of concrete. As the resulting concrete structure shows, the desired complex geometric shape was successfully produced.
Furthermore, the attachment of the formwork scaffolding, stripping and general handling of the printed formwork were successfully tested in this cooperation project. It was also proven that the water-repellent formwork from the 3D printer can be reused without any problems, which makes this process even more economical. After several preliminary tests under laboratory-like conditions, only this large-scale test for a concrete application brought the decisive findings: The formwork can even be reduced to a thickness of 21 millimetres, which further reduces the printing volume, weight and costs.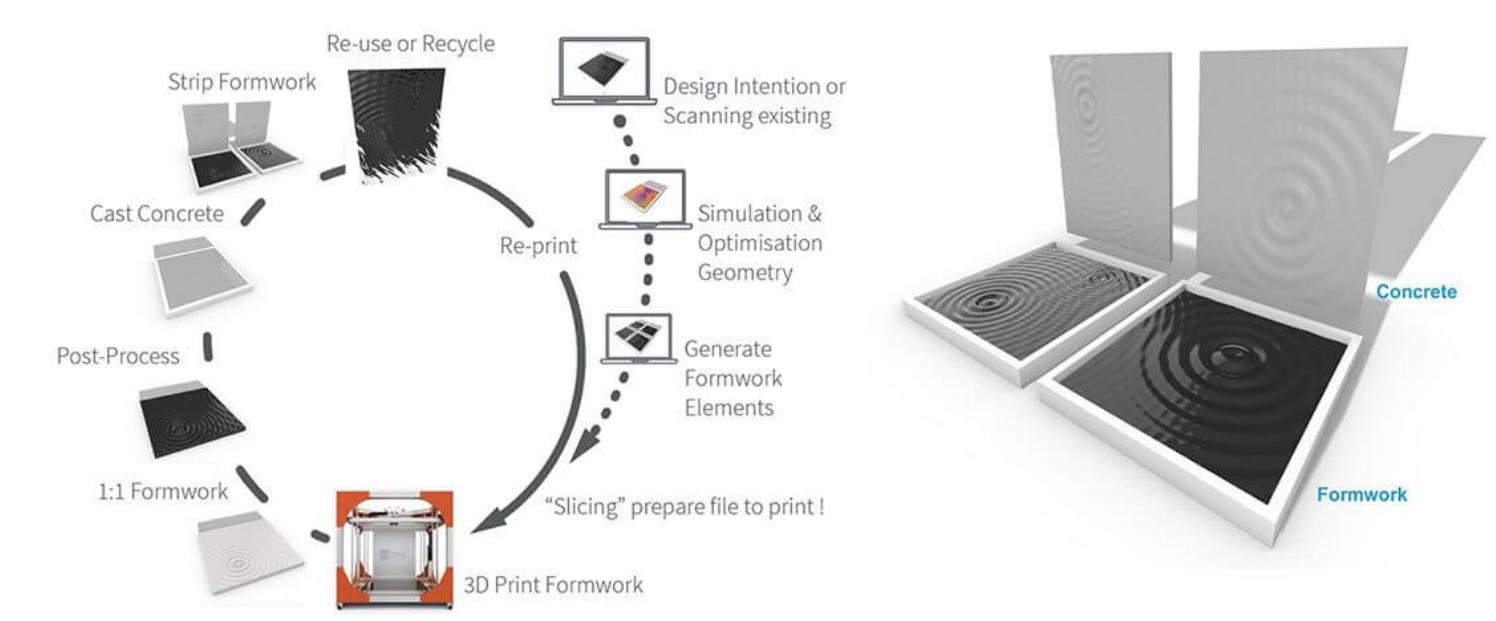 Concrete formwork
Concrete formwork in construction can account for 40-60% of the total budget, especially for complex shapes such as curved concrete formwork. Some designs such as organic geometries, double curved surfaces and voids are simply not feasible conventionally as they require highly skilled labour to produce bespoke formwork, resulting in high costs, long lead times and wasted materials.
BigRep 3D printers can produce large-scale, complex formwork up to three times faster - at a fraction of the cost of traditional methods. The new Concrete Formwork Filament, developed by BASF Forward AM and BigRep, can unlock the massive benefits of 3D printed formwork.
3D printed formwork is a perfect solution for casting complex geometries. The first step is to design and print the formwork. For restoration projects, it is also possible to scan existing elements to create the 3D models for the formwork.
If the formwork is larger than the BigRep print volume (for example, one cubic metre for the BigRep ONE), it can be printed in individual parts and then assembled. If necessary, the 3D-printed formwork can be post-processed using a variety of methods. It is also possible to combine traditional formwork for simple shapes with 3D-printed formwork for complex shapes. The concrete is then poured using standard methods. The formwork can then be cleaned and reused.
Project Milestone
The first tenant of the very first Dutch 3D-printed concrete house received the key from Vesteda on 30 April. The house in Eindhoven - the first of five within 'Project Milestone' - meets all the strict building regulations of the Netherlands. Uniquely, thanks to extensive research and development work, the project partners have realised a house with a very unique design that extends the freedom of form in concrete printing. Project Milestone is a joint construction and innovation project between Eindhoven University of Technology, Van Wijnen, Saint-Gobain Weber Beamix, Vesteda, the municipality of Eindhoven and Witteveen+Bos.
The house is a detached, single-storey house with 94 square metres of net floor space, a spacious living room and two bedrooms in the Eindhoven district of Bosrijk. The house has the shape of a large boulder, which fits well with the natural location and demonstrates the freedom of form offered by 3D concrete printing. Thanks to extra-thick insulation and a connection to the heating network, the house is very comfortable and energy-efficient, with an energy score of 0.25.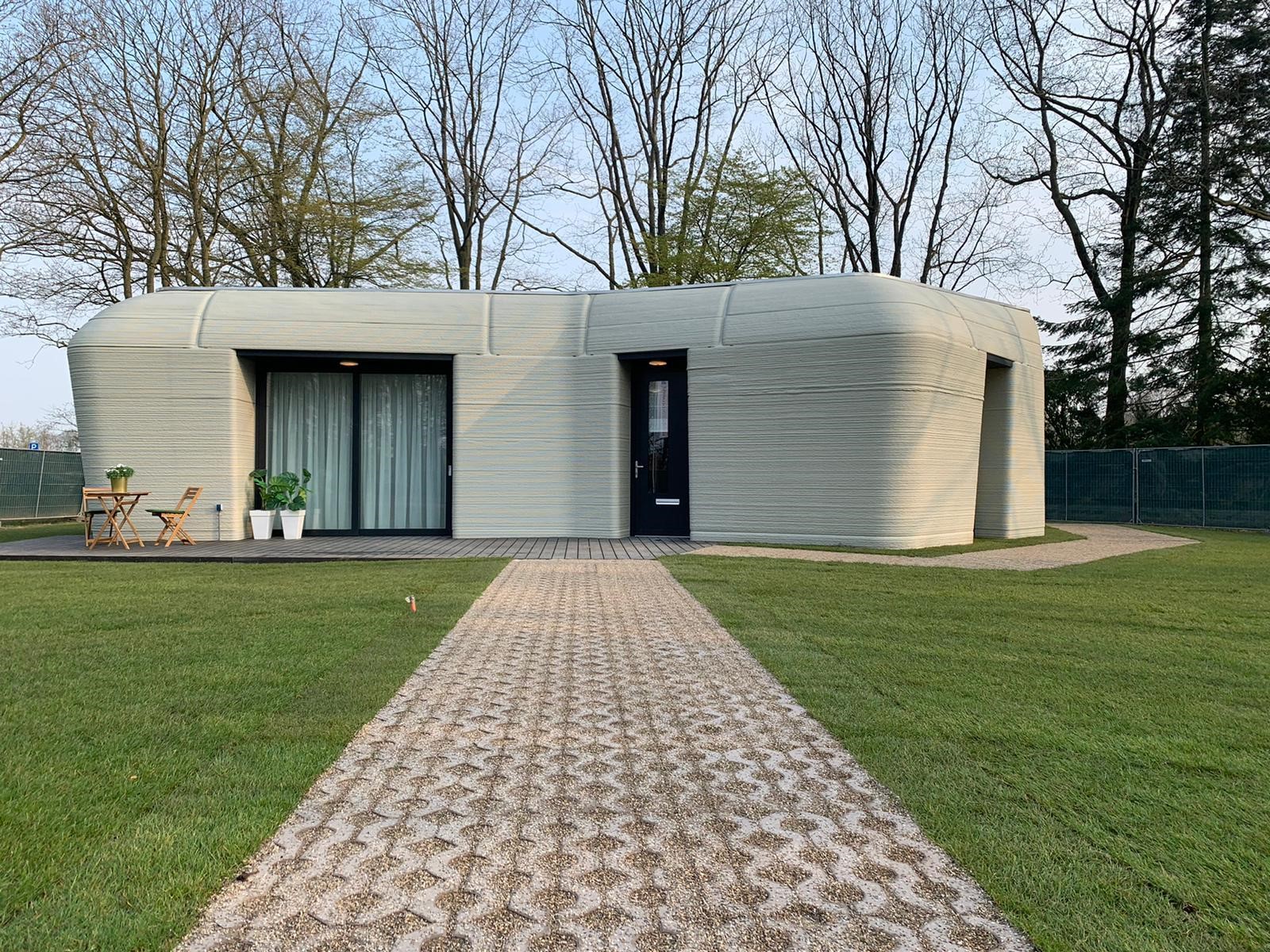 The partners deliberately set the bar high by designing the house in the shape of an irregular boulder. In recent years, the necessary research and development has been carried out to enable concrete pressure to be applied in all possible shapes. It was particularly challenging to print the sloping walls. The knowledge gained has opened the door to a completely different way of building than the usual rectangular houses. In principle, printed houses can be built much faster - with more flexibility and individual designs. It is also more sustainable, as less concrete is needed. The ambition of Project Milestone's partners is that 3D concrete printing will eventually become a sustainable construction method that contributes to solving the housing shortage.
Pieter Knauff, Chief Investment Officer, Vesteda, says: "The freedom of form of 3D concrete printing creates an enormous new scope of possibilities in the design and experience of a house. At the same time, this new technology contributes to the required sustainability in the construction industry to speed up construction production and control construction costs, which is much needed to continue building affordable homes."
Project Milestone's five homes will be built sequentially, allowing each new round of construction to maximise the learning opportunities from the previous one. Soon, the project partners will begin designing the next houses, which will have multiple floors and therefore require further development of the technology.
The house itself consists of 24 printed concrete elements that were printed layer by layer in the Eindhoven print shop. The elements were transported to the construction site by truck and placed on a foundation. Afterwards, the house was provided with a roof and frame and the finishing touches were applied.
A special feature of the project is the "Triple Helix" collaboration between government, knowledge institutions and industry. The municipality was co-initiator, innovation promoter and facilitator of the project. TU/e researched and developed models to enable 3D concrete printing; Saint-Gobain Weber Beamix developed the special concrete mortars needed for 3D printing and they worked together to develop the printing technology. Witteveen+Bos worked on the civil engineering and structural aspects. The construction company Van Wijnen managed the project and built the house. The house is now owned by residential real estate investor Vesteda, which rents it out to private individuals.
Bas Huysmans, CEO of Weber Benelux: "With the printing of insulated and self-supporting wall elements curved in three planes, we have taken important steps in the further development of 3D concrete printing in construction in this project. Together with all partners we have completed a challenging process and realised a very special house. I think we will soon be able to proudly add the Milestone houses to the list of iconic projects in Eindhoven."
Prefabricated buildings
Mighty Buildings is an innovative construction technology company that uses 3D printing, robotics and automation to build beautiful, sustainable and high-quality homes. The company's mission is to have a positive impact on the environment, local communities and the housing crisis through a sustainable approach.
Every startup begins in a garage. In August 2017, four people - Slava Solonoitsyn, Dmitry Starodubtsev, Alexey Dubov and Sam Ruben - came together to start a construction technology company called Mighty Buildings.
They wanted to use technology to transform the construction industry by using 3D printing, robotics and automation to create beautiful, affordable and sustainable homes. Their garage was 7,900 square feet and located in a shared warehouse in Redwood City, California. It has since grown to 10 times that size, a 79,000-square-foot manufacturing facility in Oakland, California. For them, it's not about rapid growth, but about creating something that is good for the world in the right way.
The 3D printing technology they developed themselves makes it possible to produce modular homes and building components for customers much faster than with traditional construction methods.
The 3D printers use a thermoset composite material invented by Mighty Buildings called Light Stone Material (LSM), which cures under UV light, making it a more robust building material.
Mighty Buildings has a virtually waste-free production process, avoiding 1,100 - 2,000 kilograms of CO2 emissions per 3D-printed home. We are committed to achieving Net-Zero by 2028 - which would put the start-up 22 years ahead of the construction industry.
Not only is the company certified under California's Factory Built Housing programme for building units with 3D printing, it is also the first company to achieve certification under the UL 3401 standard for rating building structures and assemblies.


Driving digitalisation
Dassault Systèmes and Bouygues Construction have announced the extension of their strategic partnership to open up new horizons in the construction industry. The three-year extension is designed to accelerate the research and development of cloud-based and mobile systemic and modular approaches. The aim is to transform the industry's complex and fragmented ecosystems and address sustainability challenges.
The two companies will primarily focus on further expanding the use of the 3DEXPERIENCE platform. This primarily concerns collaboration across the entire life cycle of a project as well as for the creation and modelling of product lines. This makes it possible to simplify and streamline interaction with project developers, architects, subcontractors, suppliers, customers and operators. In addition, the possibilities for collaboration and innovation bring together the entire ecosystem of a project.
The creation of a virtual twin in construction serves to industrialise project management from design to operation. This approach, upstream of the value chain, enables the most appropriate design based on the use of the building. Processes can be industrialised by simulating the various phases of a project as early as possible and planning their implementation down to the smallest detail. This enables energy savings and improved waste management, for example.
A broad portfolio of customised, high-value functionalities ultimately aims to increase productivity in the operation of a building, improve quality, reduce errors, comply with new sustainability standards and improve the plannability of project execution.
To achieve this, three industry solutions on Dassault Systèmes' 3DEXPERIENCE platform are used: "Integrated Built Environment", "Inclusive Urban Future" and "Building Design for Fabrication".
Philippe Bonnave, Chairman and Chief Executive Officer at Bouygues Construction: "Each project is unique in its specific requirements. The challenge is to meet the increasingly complex requirements in use. Through our partnership with Dassault Systèmes, we aim to develop new ways of constructing buildings for the benefit of our clients. We also aim to improve the way the entire construction industry deals with environmental challenges. This result can only be achieved by involving all project stakeholders in the creation of a virtual twin. Such a high level of collaboration requires a unified digital platform that brings this ecosystem together."
Bernard Charlès, Vice Chairman and CEO of Dassault Systèmes: "Ecosystems and projects are becoming increasingly complex and large. We are convinced that a renaissance of the construction industry is possible - one that makes it more sustainable and cost-efficient. This new level of integration will reduce waste and improve the construction lifecycle by opening up new opportunities for collaboration and innovation for people on the ground. The success of our ongoing projects with Bouygues Construction requires accelerated and expanded collaboration to cover the wide variety of construction projects. The 3DEXPERIENCE platform provides the construction industry with a new generation of cloud-based, mobile virtual twin experiences. It is therefore a game changer in the transformation towards a simplified, streamlined and sustainable industry."