The L320 3D printer from the Liquid Additive Manufacturing (LAM) series by German RepRap is a real "Game Changer". For the first time it is possible to 3D print with injection moulding silicone.
Complex geometries, fully new shape freedom
Cross, lattice or honeycomb structures, there are a lot of possibilities. The structure in the object can be controlled at molecular level. With the LAM process, the application direction and thus the cross-linking can be influenced on an very exact niveau.
Liquid Silicone Rubber (LSR)
The highly viscous Liquid Silicone Rubber (LSR) is already used in many companies for a wide variety of products and gives confidence in the future use of this 3D LSR material. Users benefit from a shorter time-to-market because insights from the prototype model can be transferred directly to injection molding..
Print Head Technology
The new printhead technology enables precise metering and mixing ratios. Where conventional production processes such as injection molding require all molecules to be aligned, LAM technology can influence the application direction and thus the cross-linking at the molecular level.
Simplify3D Software
One integrated software suite contains everything you need to print high quality parts. Customizable settings and advanced processes put the controls into your hands. Included in scope of delivery.
Thermal Cross-linking
A high-temperature halogen lamp releases activation energy to accelerate complete crosslinking, at the molecular level. This fine-tuned reaction, in both small and large objects, is ensured by the driving speed of the lamp. Due to this thermal cross-linking, the printing time is considerably reduced, at the same time the printing result, especially also in terms of time savings,sets new standards.
On Site Service
We offer our customers our unique on-site service. In addition to the maintenance and repair services, our partner offer Software and Hardware Trainings.
Safety
The sound safety technology monitors the curing process. The mechanics of the system and program run independent. Deviations are registered and displayed by the system. In the case of irregularities, the print job is automatically stopped. In addition, according to industry standards, the machine is accessible at any time via two doors.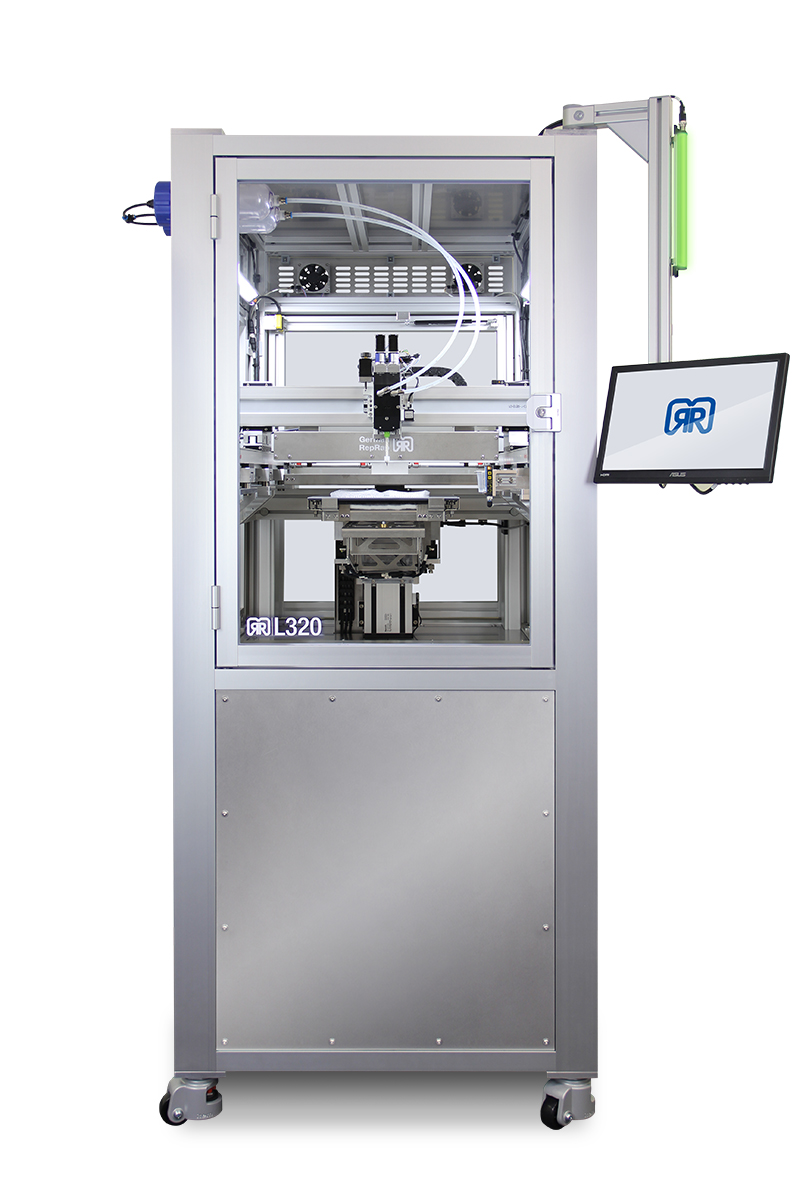 Precision in Continous Operation
The basic construction of the L320 is very stable. The production takes place in Germany with high-quality components. This makes the L320 a long-lasting device that has been designed from the outset for commercial use.
Stand-Alone Printing
The touchscreen allows intuitive operation of the printer. This allows each print job to be started comfortably. Optionally, a network connection via Ethernet and WLAN with browser-based control and monitoring via webcam is possible.
Maintenance and Service
Tailored to the needs of industrial use, the customer is optionally offered a maintenance contract as well as professional on-site service by a trained technician. The worldwide German RepRap partner network ensures a reliable service through a personal contact person.