Renown graduate university continually expands applications for versatile paper-based 3D printing.
"Students learn differently. The more senses you can touch the better. 3D printing offers 2-3 additional ways to learn", Gary A. Wisser, Multimedia Specialist, Western University of Health Sciences
Taking a uniquely holistic approach to the study of medicine, where emphasis is placed
on how the movement and interaction of the different parts of our bodies directly correlates to our health, is the philosophy of Western University of Health Sciences. Rather than prescribe medication for an ailment, the university's graduate medical practitioners across a variety of healthcare disciplines (who receive a DO degree upon graduation rather than the traditional MD) first examine and attempt to rectify how the relevant body parts relate and move together in order to diagnose and resolve health issues.
For nearly 40 years, the mission of Western University of Health Sciences, based in Pomona, CA, USA has been to educate tomorrow's healthcare professionals with a combination of scientific excellence and a humanistic, compassionate approach to patient care, with the goal to enhance and extend the quality of life in our communities. The university is home to over 3,600 students in nine health sciences colleges and 21 degree programs and its alumni rank among the top leaders in health care and medicine throughout the country and the world.
Gary Wisser, Western University of Health Sciences' Multimedia Specialist, recognised that, since understanding movement is core to the university's curriculum, the tactile nature of 3D printing would enable students to see, hold, feel and manipulate the models in a way not possible using digital models or photos. "Everyone learns differently," says Wisser. "The more senses that are stimulated in the learning process, the more effective the learning. 3D printing adds two to three additional ways for students to learn."
Wisser selected an Mcor IRIS, a professional-class 3D printer that uniquely uses ordinary copy paper as the build material and prints in high-definition, photorealistic colour. He selected Mcor for its superior colour, reliability, Green and eco-friendly process and uniquely low cost of materials and operation. "As a holistic medical institution, we like to practice what we preach," said Wisser. "And with Mcor, no toxic or harsh materials are needed to dissolve supports. I also really appreciate that I can start a build and just walk away, knowing that the IRIS will keep running and complete the build without issue. And, the low cost of materials and photorealistic colour capabilities make the Mcor IRIS a no brainer."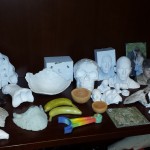 Students experience vs. observe
Wisser uses Mcor's SDL (selective deposition lamination) paper-based 3D printing technology to produce realistic bone models, such as the skull, ribs, vertebrae and more, so veterinary and medical students can increase their understanding of body movement and its impact on health and illness.
Wisser first 3D scans and then 3D prints animal and human bones so students can actually experience how they fit together and the motion of the bones. So if a patient is ailing, these future doctors and healthcare professionals can determine if their movement is abnormal, identify the cause and correct the problem. The IRIS' full-colour 3D printing capability also enables students to identify the realistic anatomy of bones, such as where the muscle attachments are located.
For example, all portions of the cranium are in constant motion, expanding, contracting, sliding, rotating, and even moving in a hinge motion. This movement controls the circulation of the cerebral spinal fluid. Wisser 3D printed several models of a disarticulated skull. Students viewed the movement of the cranium on screen while duplicating and experiencing the movement they were viewing on screen with the 3D printed models in their hands, greatly increasing their understanding.
Wisser expands this innovative, multi-dimensional method of learning even further, sending 3D printed models to students on their Oregon campus and connecting them on screen in real time with California students in one virtual classroom – all students in both locations holding and discussing the same 3D printed models.
He also scans and prints bones that have been damaged by disease. This enables students to handle and study the pathology of fragile or rare bones without further damaging the originals.
"3D printing is a tool for learning," says Wisser. And the Mcor IRIS 3D printer has provided the university's emerging doctors, dentists, veterinarians and other healthcare professionals with practical knowledge that simply couldn't be imparted as effectively in any other way.
Versatility unleashes new applications
The university has expanded their use of Mcor 3D printer to produce realistic models of teeth for dental students. Wisser scales dental models up to 10X their actual size so students can easily view, examine and feel the structure of the teeth. Instructors also 3D print the dental models in colour so students can identify the distinct anatomy and landmarks on the teeth.
In addition, Wisser scans and 3D prints fossils for the university's anatomy department, which conducts research with fossils by taking measurements of the fossils and comparing them to present day bones. In fact, several of the university's doctors were involved in the discovery of a dinosaur, subsequently named Aquilops Americanus. While the original fossil resides at the Sam Noble Oklahoma Museum of Natural History, in Norman, Oklahoma, USA, Wisser 3D prints models of the dinosaur for further examination and display at the university.
"We're constantly finding new and more innovative uses for our Mcor 3D printer," adds Wisser. "For example, we're working on a project to 3D print photorealistic busts of graduating doctors in their lab coats, as well as incoming students."
Wisser is even using the Mcor IRIS to prototype the design and development of virtual reality goggles that will be used in a VR educational tool for students. In the future the university plans to open a prosthesis department and the experience they are gaining in 3D scanning and printing is giving them valuable expertise they'll need to prototype prostheses.
Says Wisser, "3D printing with the Mcor IRIS has been fun. I love going to work everyday to see where we're going next."
www.mcortechnologies.com