How 3D printing technology fascinates the young
The HTL Dornbirn places importance on modern additive manufacturing methods not only in terms of understanding but also of applying. In order that the students are ready for their career start and technologically up to date, the Austrian vocational school uses Sintratec technology.
With its wide-spread subject range from technology and economy through computer science, logistics and chemistry to fashion, the Höhere Technische Bundeslehr- und Versuchsanstalt Dornbirn offers a promising training for adolescents aged 14 and above. The goal of the modern institution is to prepare them for their career entry and higher education. For this, 140 teachers convey knowledge to approximately 1000 students. Professor and Graduate Engineer Harald Walzl, leader of mechanical workshops and specialist groups, says: «There is a great demand for our graduates on the job market because of our practical focus. The broad technical skills of our students form a solid basis .»
Selective Laser Sintering in education
For his teaching activities in the field of business and engineering, mechanical engineering and "FutureTecs", Harald Walzl equipped the school with a Sintratec S1. Satisfied with its technology, he recently also acquired a Sintratec Kit in order to have the possibility to print flexible parts out of thermoplastic elastomer (TPE). «The combination of the dimensionally stable Sintratec PA12 we use in the Sintratec S1 and the elastic Sintratec TPE optimal», reckons Harald Walzl. But there are other advantages that come into effect too: «For us, the Sintratec 3D printing systems combine the important aspects of learning, realizing and maintaining.» Concerning the knowledge transfer he considers the characteristics of selective laser sintering a big plus: Functional parts can be produced and used immediately.
3D printed objects for school projects
Future business engineers, mechanical engineers or so-called «future tecs» are the main users of the Sintratec S1. For major projects they developed parts like a gimbal for a quadcopter. Even rims for skateboard wheels have been manufactured generatively. Harald Walzl: «These kind of print jobs can be realized easily. The technology is suitable especially for projects containing a small number of pieces.»
According to the teaching Graduate Engineer, the significant benefits regarding the use at HTL Dornbirn is the high chemical, mechanical and thermal resilience of the Sintratec materials. Redundant support structures and the resulting design freedom also encourages the students to experiment.
Printing spare parts for labs and workshops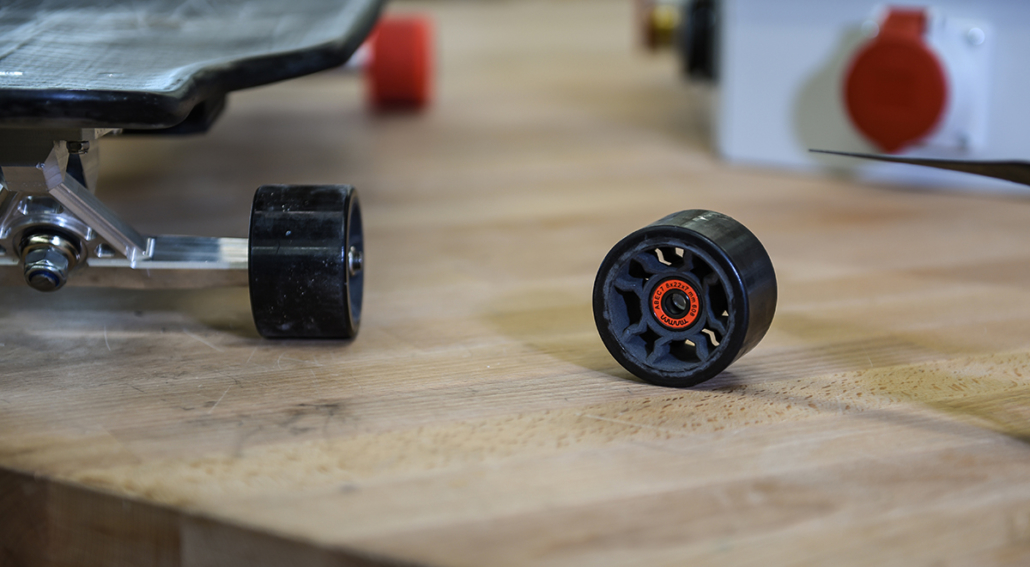 Furthermore, other departments of the HTL Dornbirn rely on Sintratec technology when it comes to maintenance tasks. Different objects have been printed for various laboratory equipment. Harald Walzl: «We are a practical education site, where things happen to break from time to time. Therefore, in-house requests are coming regularly, whether for battery caps, hooks or other devices, that cannot be replaced by spare parts since they do not exist anymore. In such cases we model the objects in a CAD system and print them.»
Ideal to visualize product design
The full package of both Sintratec systems convinced Harald Walzl. «We are talking about an excellent mix of acquisition cost, performance and user-friendliness as well as the services of the motivated Sintratec team.» For him the key aspect regarding educational purposes lies in the visualisation of processes: starting from the idea through construction to manufacturing. In short: 3D printing technology nurtures the innovation capacity of the young and offers them an instructive insight into the world of digitalization.
Covering additive manufacturing in a technical education has become indispensable nowadays. Thanks to 3D printers, complex topics can be explained more comprehensibly. And the technology offers to increase the creative freedom of the students too. Graduate Engineer Harald Walzl summarizes: «We must not this technology. Therefore, we promote it specifically at our institute. And it is really popular!».
www.sintratec.com