3D printing is evolving from a niche process to high-volume manufacturing technology. Evonik supplies customized materials for all major technologies and is driving forward the development of next-generation printers.
A paradigm change is underway in industrial fabrication facilities. Normally, plastic material must be fused and cast or pressed into predefined molds to produce the corresponding element. Where these forming processes meet their limitations, additive processes pick up the slack: On the basis of a digital three-dimensional blueprint, material is applied in layers on a base surface. After each application the surface is lowered by a fraction of a millimeter and another layer is added. Very soon a three-dimensional structure is produced that corresponds exactly to the digital specification—with no need for special molds or extensive post-processing.
Additive processes—usually referred to as 3D printing—have so far been used mainly for prototypes and models. The advantages are obvious: If the result is not optimal, the data set is simply changed and the printing is repeated. In addition, when products are required only in small production runs conventional fabrication is usually too labor-intensive and costly; examples are components for vehicles with optional extras, housings for specialty machines, and even grippers for robots transporting and packing sensitive and constantly changing objects.
Aircraft construction and medical technology as technology drivers
For a few years now, this new type of shaping has also been establishing itself in series production. Among the most important drivers are aircraft construction and medical technology. In aircraft construction, parts must be light, very compact, highly functional and also heat-resistant. In medical technology, another factor plays a role: no two people are alike. Therefore, prostheses, aids or even surgical devices must be individually measured and adapted. 3D printing is used to create small drilling and sawing aids for knee operations or hearing aids, for example.
For plastics, additive manufacturing is a highly promising market. Plastics are durable, easily fusible, and almost infinitely variable in their properties, and are therefore ideally suited for this cutting-edge technology. With polyamide 12 (PA12), Evonik is one of the world's leading suppliers of powders for 3D printing; with polyamide 613, the Group even offers a powder material for use in the higher high-temperature range. Evonik delivered the first polymer powders for additive manufacturing as early as 1996, setting standards for plastic materials that are still valid today. Now the specialty chemicals company is launching a true materials campaign for additive technologies. With a variety of innovative high-performance materials of the group's INFINAM® brand ranging from reinforced to flame-retardant and elastic materials, Evonik is bringing the 3D printing industry a decisive step closer to series production.
3D printing for the masses
3D printing is still being primarily used to create trim or small parts that are invisible to car buyers. This is not surprising, since every new application first has to prove its worth in less critical areas. 3D printing primarily has to compete against the well-established injection molding technique, which has been enhanced over a period of many years. The advantages of 3D printing are that it enables freedom in design and opens up completely new opportunities for researchers and engineers to develop lightweight components and create totally new functions. "We are completely redesigning the parts for 3D printing so that they will have the properties we want," says Monsheimer.
This process is simplified by one of Evonik's new partners, the Israeli start-up Castor. The company's software conducts a comprehensive technical and economic analysis in order to determine when additive manufacturing is economical compared to conventional production ­methods.
A component that is reinvented for 3D printing often has little in common with the original part. Whereas an injection-molded part has to be heavy and massive so that it can withstand great stresses, an equivalent 3D-printed part can have a seemingly filigree design consisting of arches, struts, and honeycomb structures. It can withstand stresses just as well as the injection-molded part but weighs only a fraction as much.
These weight reductions make additive manufacturing a very interesting technique for aircraft construction. Every gram counts in this sector, and there is a rising demand for more fuel-efficient machines that are less damaging to the climate. The innovations of additive manufacturing are initially inconspicuous here as well. The US Air Force, for example, uses 3D printing to produce replacement parts for its veteran jet planes.
3D Printing Showcase
According to Monsheimer, greater production volumes will, more than anything else, require additive manufacturing to become faster. "The process will become especially interesting for the automotive industry when we begin to produce tens of thousands or hundreds of thousands of units," she says. The new partnership between Evonik and the US startup Evolve might be the key to unlocking this potential. The startup's technique, which is known as STEP, basically works like a laser printer and thus achieves much higher speeds.
Evonik is contributing its decades of material experience to the partnership-a win-win situation, says Sylvia Monsheimer, head of the New 3D Printing Technologies market segment: "We can develop new material if we have a machine on which we can test. The others can develop a new machine if they have good material. And so Evonik's Application Technology Center in Marl offers a showcase for the international 3D printer scene. In addition to machines from HP and 3D Systems, the show features machines from the German market leaders EOS and Voxeljet, the Swiss company Sintratec, and the Chinese manufacturer TPM.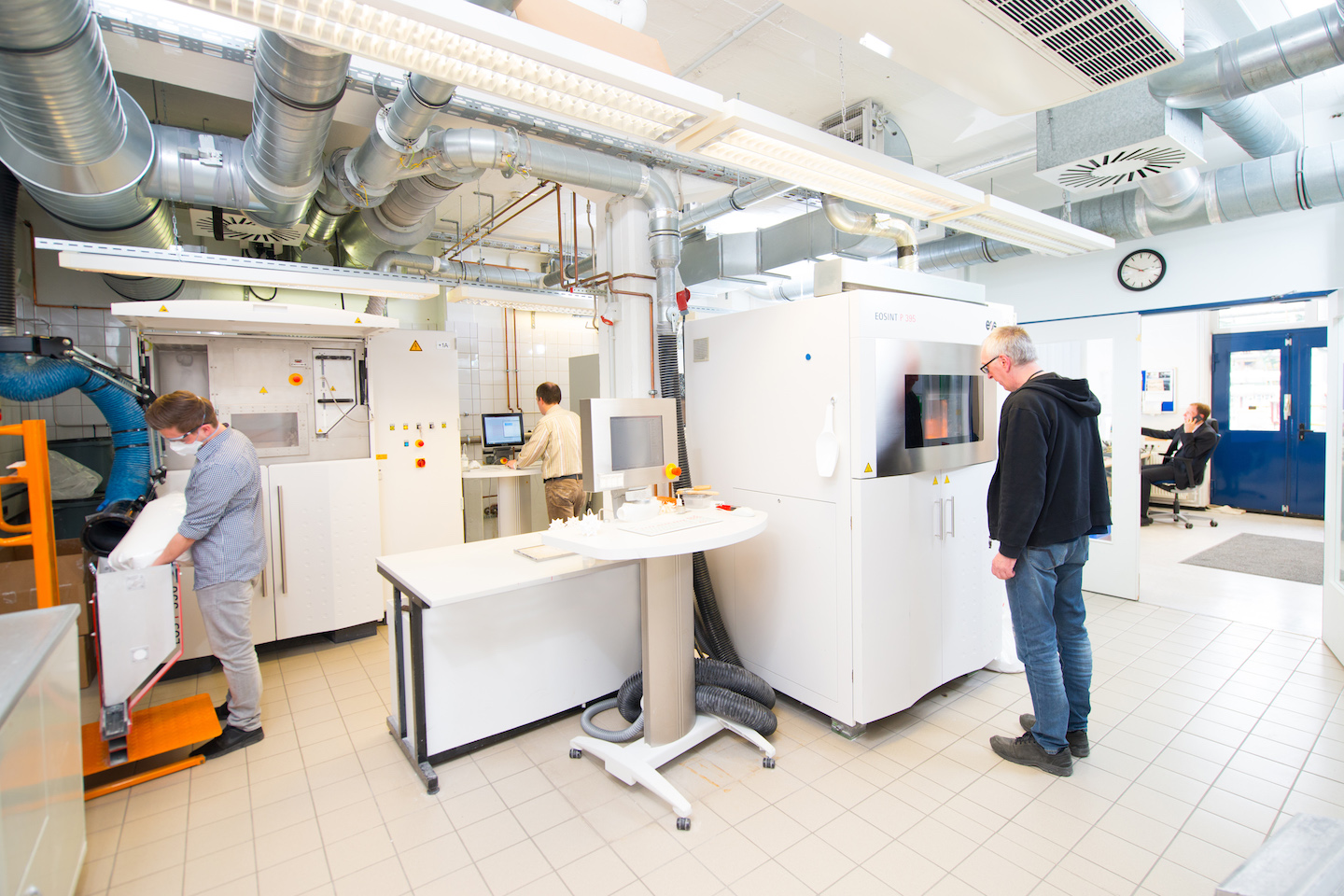 This deep understanding helps in the development of new materials for the various printing processes, says Monsheimer. "Depending on requirements, we need between six months and two to three years for a new material - sometimes even more." Polyamide 12 (PA12), which is used in countless applications, is often the basis for this, and Evonik's material developers use additives to give it new properties. "Flame retardants, for example, make it suitable for applications in the electrical industry or for components in the aerospace industry. And if the material is to be particularly stable, we incorporate glass particles, for example."
Material offensive for 3D printing
Completely new material combinations are also being created in Marl. Only last year, Evonik presented the high-performance powder PA 613, which combines the advantages of long- and short-chain polyamides: It is particularly temperature-stable, strong yet flexible-and absorbs little water. In 2018, the INFINAM® TPA elastomer (thermoplastic amide), which was introduced in the 1980s, served as the basis for a powder that can be used to print objects of almost rubber-like consistency.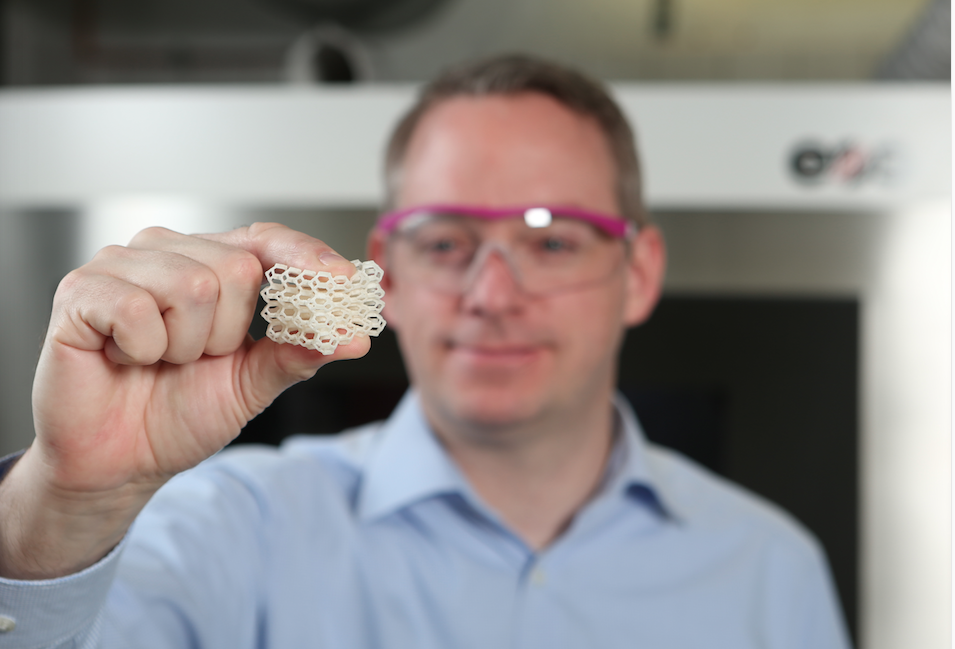 "No other company in the world can rely on as many different powder production methods as Evonik," says Monsheimer. And many things that are not yet possible are to be made possible with a new production technology that the company purchased in 2019: The U.S. start-up Structured Polymers has developed a process that can pulverize many more materials than Evonik was able to do before. A new copolyester powder INFINAM® TPC, the first material produced with the innovative technology, is the best example of this.
But the experts also dealt with other starting materials. Roughly two years ago, Evonik opened a new research hub in Singapore, where formulation specialists are working on the development of next-generation photopolymers for stereolithography. "There is still a lot of unknown territory in polymers," says Monsheimer. "Ever since I started here, I have always wanted to get away from the principle of 'one company - one process'. I am very pleased that this is exactly what is happening now.
Regardless of how quickly additive production will gain an industrial foothold, the polymer experts at Evonik are determined to consistently conquer every new application. That means observing the dynamics of the market, driving innovation, and contributing our own expertise in a targeted manner and at an early stage. Above all, Evonik sees cooperation with plant manufacturers and 3D users as a door-opener to one of the most exciting future markets for engineering plastics and high-performance polymers.
Visit our website: https://3d-printing.evonik.com/en